85 Best 6x8 Rugs For 2023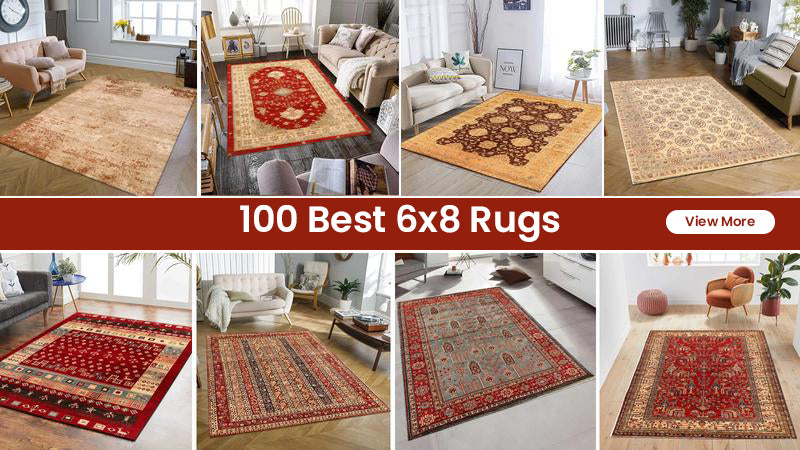 We all want the best for our homes. A home that is inviting and comfortable to be in. One of the most important things you can do to make your space feel like a home is changing up your decor. The perfect way to add comfort, style, and personality into any room is with a new rug.  We are going to be reviewing a product that is popular among many consumers, 6x8 rugs. Traditional artisan and individuals have manufactured this Rug for use in different settings. One of the most common places you will find this Rug is on hardwood floors used as an area rug or runner. These 6x8 rugs have been fashioned into hallways, doorways, kitchens, and other areas where people may walk across them regularly. Rugs such as these can be found in homes worldwide with their unique designs, making them easy to identify from one another. With so many different styles, rugs can be a difficult purchase. For those looking for a large rug with less weight that doesn't take up too much space, 6x8 rugs are the perfect solution. Here we listed our top 85 Best 6x8 Rugs For 2023 for you. 
1. Black Kazak Area Rug
The Black  Kazak Area Rug is a great flooring option for any space in your house. Give yourself peace of mind with high-quality wool that will resist stains and wear. At 6x8, this Rug has the perfect pile height to feel plush underfoot without being too much or adding unnecessary weight to the overall look. The traditional designs are excellent for anchoring contemporary spaces while still lending themselves to dark tones elsewhere in your home's design palette
2. Purple Contemporary Area Rug
This bold and modern area rug's geometric pattern creates a bold statement in any room it decorates. At 6' wide by 8' long, this contemporary area rug is perfect for medium-sized spaces such as living rooms, courtyards, or indoors at the office. Made of 100% wool from New Zealand with hand-knotted construction using hand-weaving techniques, this elegant Rug will be your favorite accent piece. With free shipping and a 30-day return policy on all sales made online through our website, including this product.
3. Beige Ziegler Area Rug
Looking for a way to bring warmth and beauty into your home? With this Ziegler rug, you'll have the opportunity to create an air of elegance in any space. Made from quality wool with a rich texture that makes heavy foot traffic comfortable, our Rug can withstand excessive wear without fading. Vacuum regularly, and it will resist both stains and mold while maintaining its lively color over time
4. Brown Kazak Area Rug
The Kazak Area Rug is a perfect fit for any decorating style. You'll love the traditional design with a modern twist. This brown Kazak rug is made of high-quality material and has a traditional design with a rich pile height. Use it as an area rug or put it on the floor in one place to create an inviting living room space, perfect for entertaining guests. It's also easy to clean, making it great for pets and children.
5. Multi-Color Contemporary Area Rug
Our Contemporary Area Rug will provide you and your guests with a chic, sophisticated feel. The modern pattern is subtle yet creates an inviting atmosphere in any room. Hand-knotted of 100% New Zealand wool to make it durable for many years to come. Free shipping and returns make this Rug easy on the wallet too.
6. Brown Gabbeh Area Rug
This wool rug is aesthetically pleasing with its intricate lines and low traffic. It's perfect for bare feet and high traffic area, and your feet will be glad you got this great area rug. The perfect flooring solution for kitchens or living rooms alike, this Rug creates an oasis of warmth at whatever table you call home.
7. Multi-Color Kazak Area Rug
Kazak rugs are traditional yet classic. This 6x8 Rug is perfect for an entryway, bedroom, living room, or under the dining table. The wool material is ideal for indoor use. Its medium pile height makes it a beautiful and practical option in any space.
8. Purple Contemporary Area Rug
This purple, contemporary-styled Rug will accentuate your home beautifully. Hand-knotted and made of 100% New Zealand Wool, this Rug is as durable as beautiful. At 6 ft. wide x 8 ft. long, you are sure to find the perfect spot for its charming patterning in any room of your house or office space. Available on our site for a low price that can't be beaten—free shipping and returns included.
9. Beige Ziegler Area Rug 
A blizzard of neutrals in a ball of hand-knotted beige wool, this modern and unique area rug will bring life to your ugly floors. Natural tones come alive in the patterned pile, perfect for both high traffic living areas or use as an underfoot runner. You'll be amazed at how easy it is to get right on trend with this affordable investment piece.
10. Ivory Kazak Area Rug
A traditional weave of stunning design, the ivory Kazak Area Rug is perfect for any room that needs a little extra style. With its intricate patterns, no rug is like another making this an excellent choice to express your sense of creativity and make a statement. If you're looking for something with a softer look, try our cotton options, but if you want more long-lasting durability, consider the wool option when purchasing your next area rug from RugKnots.
11. Multi-Color Contemporary Area Rug
This colorful Rug is woven with your utmost comfort in mind, and this Contemporary Area Rug is a classic addition to any room. Easily complementing modern and traditional home decor styles, this timeless design will give you the artistic flair you have been looking for at an unbeatable price.
12. Grey Ziegler Area Rug 
This exquisite Rug is made from wool for durable wear in any room of the house. When spills or messes happen, it's important to clean as soon as possible with dish soap and cold water. We recommend vacuuming regularly to keep dust and grime away while sustaining its artisanal luster. The colors are fade-resistant, so you can enjoy this masterpiece for years without worrying about the ravages of time underfoot. 
13. Ivory Kazak Area Rug 
Give your living room the perfect finishing touch with this traditional yet classic Kazak area rug. The 100% wool material can fold and slide but does spill easily, so be sure to spot clean it carefully. Keep the pile as low as possible for comfortable floor sitting. If you have trouble deciding where to place your neighborhood centerpiece, it complements a living room coffee table nicely when hosting a family game night near the kitchen.
14. Red Contemporary Area Rug
This red contemporary area Rug can bring personality and fashionable design to your home. Available in various bold colors, this durable piece is made with 100% New Zealand wool that is easy on the knees if you spend time kneeling or sitting on it. The contemporary pattern will continue to be right on trend season after season. Get free shipping plus a 30-day return at affordable prices with today's purchase.
15. Multi-Color Gabbeh Area Rug 
A bold and powerful addition to any space, you'll love the time-tested durability of this Rug. If your style demands a more subdued approach, try our ash tan colorway for an instant touch of elegance and refinement. The Rug is made from wool - excessive wear can cause fading, so make sure to vacuum regularly. It's perfect for anyone looking to make their house more exciting and different with an eclectic vibe.
16. Red Kazak Area Rug
Add a touch of tradition with the red Kazak Area Rug. Perfect for any room and at just the right size, this Rug will decorate your living space or make it that much cozier. Add a splash of color to your drab flooring and show off your taste in style. The wool is gentle on delicate types but durable enough to handle everyday wear and tear.
17. Purple Contemporary Area Rug
Expect the unexpected with contemporary rugs. Their patterns and modern designs will transform any space into something new, inventive, and fresh. Contemporary Rugs are made from recycled fibers, so they have a unique look that offers modern elegance.  Looking for an area Rug for your living room? Check out our Contemporary Area Rug in a 6 ft W x 8 ft L size, 100% New Zealand Wool construction, hand-knotted design made in Pakistan, free 30 days return & shipping. 
18. Red Gabbeh Area Rug
Our Gabbeh area rug has a 6 ft. W x 8 ft. L size that adds to the ambiance of any room or area in your home. This Rug is made with 100% New Zealand wool and hand-knotted construction for durability, rich textures, and long life. Free shipping anywhere in the U.S., hassle-free returns, and free exchanges make it easy to shop worry-free at our store. Place your order today before they're gone forever.
19. Red Kazak Area Rug
Owning one of our Red Kazak Area Rugs is a great choice for any space because it will perfect your home. When you need an indoor rug, this delicate piece can lend comfort to rooms of all sizes. If you're looking for the right color and style, we've got exactly what you need in the traditional yet striking Red Kazak Area Rug.
20. Red Contemporary Area Rug 
Making a home is like investing. As you make choices on walls, floors, furniture, and more, investing in the right Rug will exponentially increase your return of comfort. The red Contemporary Area Rug offers an exquisite, handcrafted design that makes each purchase truly one-of-a-kind.  What could be better than to settle down onto this thick woolen terrain at the end of a long day? 
21. Beige Gabbeh Area Rug
if you want to keep your décor minimalistic with understated elegance, try this sophisticated Rug on your floors. Built with care for style and longevity by skillful artisans in Pakistan from 100% New Zealand Wool, these deeply elegant floor coverings will bring character to any room's ambiance. Experience what it means to live life fully grounded as our Gabbeh area rugs provides the perfect spot to call your own space today.
22. Brown Kazak Area Rug
This Brown Kazak Area Rug is a traditional yet classic piece that will be the perfect touch to any space. The size of this Rug will fit most rooms with a 6x8 foot surface for indoor use. This area rug features wool material in pile height that will not scratch your floors, and it is resistant to stains and spills as well.
23. Purple Contemporary Area Rug
your house is now the best looking one on your block thanks to this beautiful neutral color contemporary area rug. Give yourself a home makeover, too, with this affordable, durable, hand-knotted area rug in an eye-catching pattern that you'll love just as much as it does.
24. Multi-Color Gabbeh Area Rug
This hand-knotted area rug is a great addition to any room you want to get cozy in your house. The natural fibers are densely woven and dyed with natural vegetable dye, providing a quality product that will maintain its rich colors over time with regular maintenance. Rug measures 6 x 8, so it can be used on many different types of areas such as by a kitchen table or at the end of your bed; however, given excessive wear on one location if vacuuming regularly.
25. Multi-Color Abstract Area Rug
This ravishingly beautiful wool and silk mixed Rug is hand-knotted with a modern yet abstract pattern that only adds to its extravagant charm. This hand-knotted technique gives the design texture of both depth and earthiness. Whether expounding on it in every detail or gazing upon this alluring masterpiece from afar, you'll be unable to resist there's singular unifying impact either way.
26. Red Kazak Area Rug
The traditional and intricate pattern of the Red Kazak Area Rug is irresistible with a bright red color that can complete any room. This 6x8 wool rug ensures that you'll have plenty of safe space for your family and guests to move around in, as hand-knotted construction and wool fibers make it durable enough for high-traffic areas like kitchens and living rooms. Opting for this floor covering also makes a healthy choice in materials: wool has non-allergenic properties. At the same time, cotton plants use less water during growth than synthetic materials such as polyester or nylon carpet. 
27. Brown Gabbeh Area Rug
A modern take on the classic, this Gabbeh rug will lead your home's décor into a more contemporary style. The plain pattern blends pink, red, and brown canvases to create such a talk of an eye-catching design. Soft wool and subtle sheen will ensure that you're never disappointed with how it looks or feels in any space. Stay stain-resistant, too, by purchasing one now.
28. Ivory Abstract Area Rug
Each one-of-a-kind Rug captures the beauty of traditional Afghan craftsmanship in a contemporary, abstract design for a global home. Handcrafted from sheared wool on a silk foundation with fringes. The intricate quality is unparalleled by all other rugs made, ensuring a long-lasting quality piece for you to enjoy every day for many years to come.
29. Green Kazak Area Rug
Kazak rugs tie a home together. The traditional yet classic style of a Kazak rug is instantly recognizable in any space while also traditionally complementing designs worldwide. Their size makes them perfect for extra seating or even as an area rug itself, and their material can withstand anything your kids might try to do with it, such as spills and roughhouse. And hey, when you're ready to move up to something nicer (without having to spend a fortune), just let us know.
30. Black Gabbeh Area Rug
This high-quality Rug will make guests and your home feel warm and welcoming. It is made from 100% wool to ensure durability with enough deep pile for optimum comfort. Care for this natural material by vacuuming daily, maintaining its durable qualities while keeping it looking great years into the future.
31. Multi-Color Abstract Area Rug
A luxurious hand-knotted rug designed with a range of rich colors in an abstract style, the Multi-Color Abstract Area Rug is perfect for adding dimension and serenity to any home. Experience beauty on your floor with this wool and silk construction that will never lose its sheen or get dirty over time. Enjoy timeless elegance from Afghanistan for years to come, knowing your design investment can be matched with easiness when cleaning it every 2-3 months.
32. Brown Kazak Area Rug
Kazak Rugs are traditionally hand spun, woven wool. A more contemporary take on this ancient weaving technique is to use acrylic yarn in its place. As such, the Kazak Area Rug by RugKnots offers a great choice for modern living spaces with style and flair. The pile height of the Rug has been made shorter than typically found in area rugs, which means you can do your thing without tripping over it. These types of rugs often make excellent choices as replacements for carpeting because they also absorb sound waves.
33. Brown Gabbeh Area Rug 
Think your home base could use more hippie vibes? Rugs have got you covered. Let this handmade beauty give a colorful twist to your world. The intricate design that'll remind you there's always something new to look at around every corner will keep bare feet warm while they deposit sand on your wood floors. 
34. Multi-Color Abstract Area Rug
The Multi-Color Abstract Area Rug from RugKnots combines styles of modernity with tribal personality in a stunning contemporary exhibition. Hand-knotted out of wool and silk by Afghan artisans, and the patterns are intricately woven to create a luxurious environment for decoration or an perfect accent rug.
35. Brown Kazak Area Rug
The Kazak Area Rug is perfect for any space. The delicate hues of brown, beige, gray, and khaki will transport you to a world where nature meets culture. Great as an area rug or stand-alone piece, the quality wool pile height on this stunner keeps it looking fresh. Measures 6x8, so it fits just about anywhere. You don't need to worry about stains and dirt because its material is stain resistant and also pet friendly.
36. Multi-Color Ikat Area Rug
This Rug is a masterpiece among your flooring options. Hand-crafted from wool, this ikat area rug boasts breathtaking colors that will accentuate any room in your home.  Choose from many colors or create your aesthetic with the multi-colored abstract style of this great piece of art.
37. Multi-Color Abstract Area Rug
Abstract art is one of the most popular rug styles in the world for a reason. It will complement any type of accent or décor. Handmade by Afghan artisans from wool and silk traditional hand-knotting techniques, the design is purely abstract with color blocks that don't mean anything but look good together.  Ideal if you're looking for flair at home--the Abstract Area Rug adds an artistic flair to any room or office.
38. Brown Kazak Area Rug
Kazak area rugs are a fantastic choice to use in any living or family room as they will be the perfect finishing touch. They have a hand-tufted pile height, are made of wool, and have an indoor use tag. Indulge yourself with this perfect piece for your space. They wool Rug absorb sound waves - you'll be able to hear what people say better from one side or another while they're on the phone sitting at their desk, so there's less chance of confusion when talking about voice-notes
39. Blue Oushak Area Rug
Make a statement in any room with the blue Oushak Area Rug. A beautiful fusion of natural fibers that were hand-knotted, these rugs are durable yet soft to the touch. Whether you want it for your living room, dining room, bedroom, or study area, this Rug will look amazing. With so many different colors on one Rug, we call this classic art meets comfortable indoor flooring design.
40. Brown Ziegler Area Rug
Our brown Ziegler Area Rug is a thick and fluffy floor piece that will provide you with the best night's sleep. Along with this stylish Rug, you'll have access to s wonderful variety of colors while enjoying its gentle touch on your paws. Unlike other synthetic material rugs like Polypropylene Rugs or jute rugs found in most homes, our wool rug can stand up to every situation thrown at it thanks to its top-notch materials and magic cleaning technology.
41. Brown Kazak Area Rug
Traditional yet classic, this Brown Kazak Area Rug is a great choice for adding cozy and comfortable style to any room. The reliable wool material makes this area Rug a wonderful option for both indoors and outdoors due to the durability against wear and tear caused by daily use around your home. With 6x8 size and pile height, it can accommodate up hours or activities while looking stunning in any space from kitchen dining rooms to pop-up jazz clubs.
42. Multi-Color Abstract Area Rug
Beautifully crafted from wool with silk yarns, each stitched knot tells a story. Decorate your home with this low pile Rug that is part of Afghan tradition for centuries. With several colors to choose from and abstract shapes sure to fit in anyone's decor choices, you can't go wrong. RugKnots has won customer's satisfaction for using natural materials and environmentally sustainable business practices-do not settle for any other handmade rug than theirs today.
43. Ivory Ziegler Area Rug
With a commanding presence, the Rug will instantly mesmerize your guests. Its soft and silky texture is inviting to touch, while its attractive colors are sure to delight. And don't worry about spills or dirt stains. The ivory Ziegler area Rug can be easily cleaned with just a damp cloth. This is the actual rug for your ideal décor from all rugs collection.
44. Red Kazak Area Rug
Red Kazak area rugs are traditional with intricate pattern patterns. These rich, vibrant red Kazak area rugs are made of wool and hand-knotted. The size is 6x8 ft, and the rug type is indoor. They work well in dining rooms, bedrooms, sunrooms, kitchens, home offices/ studies, and more. Durable materials that also protect your floors from staining or spills and provide a comfortable space to stand or sit on, making these rugs a great choice for any room in your home when you need flooring suitable for all types of activities throughout the day.
45. Ivory Oushak Area Rug
Perfect for apartment therapy, the ivory oushak Area Rug is a great way to add some carpeting without breaking your budget. With light colors and a pile height that provides cushioning underfoot, these stylish Ivory Rugs look just as good in home office settings too. Plus you don't need professional cleaning because this rug is very easy to clean. Free shipping available when you purchase online. 
46. Multi-Color Abstract Area Rug
Life is full of choices - so make yours an excellent one. Need a stylish centerpiece for your home? Browse our luxurious Afghan hand-knotted Abstract Rug. This is great rug for high foot traffic areas. Choose from formal to playful styles in a variety of colors and patterns. Add some warmth and softness to the room with one of these stylish pieces today.
47. Red Kazak Area Rug
Let the Red Kazak Area Rug speak for itself. You'll be immersed in an intricate, traditional pattern when it's just you and this Rug. With a beautiful red hue that will bring warmth to any space, you can't go wrong with this hand-knotted wool masterpiece. It offers a size 6x8 ft. within the context of traditional designs and color palette, making it perfect for your dining room or bedroom flooring needs. Consider coordinating your new kitchen floors with this fabric too. 
48. Brown Ziegler Area Rug 
The Ziegler Area Rug is a gorgeous rug with hand-woven natural materials. This Rug has intricate patterns and subtle designs woven into the material that creates a calming design for your high traffic area. It is so inviting to walk barefoot on it, but this Rug can hold up well against larger foot sizes too. It's easy to keep the luxurious Rug clean and looking amazing with low-maintenance cleaning, mainly just vacuuming. 
49. Brown Ikat Area Rug 
The brown ikat Area Rug complements your furniture beautifully. This floor piece is the perfect solution to bring style and aesthetic factors to your living room, bedroom, or hallway. This Rug is removable and machine-washable. You and your pet can enjoy this area Rug knowing that it's professionally steam cleaned, so you'll never have to worry about getting a mess on your hands. Plus, the rug size is made enough for all living spaces. Also beautifully handle pet hair.
50. Red Kazak Area Rug
The light and eye-catching design of this Rug is everything you have been looking for. The traditional intricate pattern is a perfect touch to any room, whether in your Dining Room, Bedroom, Sunroom, or Kitchen, as it can complement any furniture style combination. With the natural wool material benefiting from being machine washable for easy cleaning and stain proof with regular vacuuming - rest assured that dirt will not get through. This makes it an important purchase for renters since many landlords do not allow carpeting of any kind. 
51. Ivory Ziegler Area Rug 
Introducing the new Ivory Ziegler Area Rug. This Rug is handcrafted and has a black backdrop trimmed in silver, including an intricate design of fresh flowers for brightness. It's perfect for living rooms, family rooms, bedrooms, or any space that needs invigoration. Shedding of wool can occur when fibers are moved around too much and should not be seen as defective because it will naturally stop after some time.
52. Brown Ziegler Area Rug 
Heave a big sigh of relief when you step on this soft, beautiful Rug. It's perfect for high-traffic areas like your entryway and will have a look you want without hassle or head-scratching. Made with wool material that can handle anything from bare feet to muddy shoes, intricately detailed and super easy to remember how it goes together- no need for furniture assembly.
53. Blue Kazak Area Rug
Kazak Rugs offer the beauty of a classic style with an innovative design. Wool is safe for your pretty, hardworking floors and provides extra warmth in winter while bringing a comforting feeling to any porch or bed. With eight colors available, you can choose the one that matches your décor best. We hate to mention cleaning, but as with all rugs made of natural materials, use cold water only and do not dry clean.
54. Brown Oushak Area Rug
The perfect addition to your home, this hand-loomed wool rug provides the ideal accent piece for any space. The natural wool is crafted in various patterns and textures, adding warmth and texture to any room. It prevents slipping with its non-slip rubber backing and spot-cleanable surface, allowing you to enjoy it without worry. Perfect as a perfect gift for loved ones or yourself.
55. Ivory Ziegler Area Rug
The Ivory Ziegler Area Rug will add a subtle iconic charm to your space. Hand-knotted wool provides both the durability and warmth you're looking for in a rug with a high pile that stands up to busy traffic areas with its simple yet sophisticated design. Matching Accent Tables look great center stage, this area Rug on plush living room floors or in hallways lined by vintage mirrors. 
56. Red Kazak Area Rug
A modern twist on a centuries-old craft, this intricately patterned Kazak rug will serve you beautifully in your dining room or bedroom. And for indecisive shoppers, the area of choice is woven right into the design. Comes with a heavy wool construction and new natural materials designed to last. This Rug has just enough reds on the surface to brighten up your space without overwhelming it while also giving some added warmth during colder months when used under the dining table or in front of a fireplace.
57. Beige Oushak Area Rug
The RugKnots beige oushak rug is a handmade, hand-knotted wool rug. It has contoured designs and patterns that add an element of texture to the floor space. The size listed above is 5' 6 x 7' 6, perfect for most spaces in your home or office. This product comes from Afghanistan, where traditional weaves have thrived and survived through time while changing with the ever-evolving world around it like no other culture can attest. 
58. Ivory Ziegler Area Rug
The Ivory Ziegler Area Rug is a perfect addition to any large room. The enticing blend of stunning color palettes and wool construction adds elegance and style to any room, while ample space beneath the Rug makes it a great choice for high-traffic areas. This medium pile area rug will be everyone's go-to home accessory.
59. Blue Kazak Area Rug
Step into sophistication with this area rug that will exceed your expectations and make any room feel complete. A traditional yet modern design, this blue Kazak Area Rug is made of beautiful wool for enduring luxury for indoor use only with a medium pile height.
60. Brown Oushak Area Rug 
RugKnots is excited to carry the elegant, Afghan-made Brown Oushak Rug, perfect for any room in the home. This hand-knotted Rug has a wool material and comes in different colors: beige or light brown. It also has an oushak design which gives it a unique look that you won't find anywhere else. This Rug's size is 6x8 inches, so it'll fit nicely in any space. 
61. Ivory Ziegler Area Rug
The Ivory Ziegler Area Rug from our hand-knotted collection is a dazzling combination of colors and textures. It's perfect for any décor or space. Comes in several sizes. The medium pile and high traffic construction make it ideal for heavy foot traffic areas. Plus, this masterpiece will last for years to come with its gentle construction technique and traditional handmade style. So what are you waiting for? Pick one up today.
62. Navy Kazak Area Rug
Luxurious and durable, this navy Kazak Area Rug offers contemporary elegance and timeless charm.  Kazaks were created by tribe weavers in the Middle East centuries ago, combining traditional yet classic colors with an intricate tribal design. This Rug's size of 6x8 makes it great for your living room or bedroom. The wool material is perfect for warmer climates or areas where there is the danger of spills, such as kitchens, dining rooms, hallways, kids' bedrooms, bathrooms, or anywhere bare floors are present, like hotels and colleges.
63. Beige Oushak Area Rug
This handmade, modern area rug is a beautiful upgrade for wooden floors or tiled surfaces. Made from wool and handmade, this piece is elegant with its assortment of colors on the surface. Whether you're looking for a focal point in your rooms or an understated accent, this well-put-together addition to your home will give it that added edge.
64. Brown Ziegler Area Rug
Introducing a lovely and eye-catching hand-knotted wool rug with a traditional pattern. Add this area Rug to your home and fill your living room with color, life, intrigue, and warmth. RugKnots is known for its high-quality craftsmanship that will be sure to stand the test of time and add some modern flair to any drab space. It's perfect for those looking for a lovely addition to their floors in the kitchen, home office/study, dining room, bedroom, and sunroom spaces.
65. Ivory Kazak Area Rug
A traditional yet classic, the Kazak Area rug is a perfect addition to any home. With 6x8 dimensions and wool material, it's available for indoor or outdoor use if you want to add an interesting touch to your patio space.  For added comfort, this safe Rug has a pile height that ranges from 0.5-1 inch depending on the specific area--making for a luxurious feel underfoot while in your house.
66. Ivory Ziegler Area Rug
The Ivory Ziegler Area Rug brings some elegant distinction to your space. With a perfect blend of beautiful color palettes, this Rug provides charm and unmatchable style. The hand-knotted handmade wool construction ensures that this product will stand the test of time for years to come. At 6 x 8, this Rug is also a great choice if you're looking to snag something that can be used in any size room throughout the home.
67. Tan Oushak Area Rug
This Rug will bring elegance to any home. Designed with the latest trends in mind, it has all of the features you want when creating an unbeatable space for living and entertaining. A modern piece that will upgrade your existing home decor with ease.  Handmade from wool, this area Rug is beautifully crafted to last a lifetime. For those of you who prefer hardwood floors or tiles, well, guess what? Now you don't have to sacrifice. Just get yourself one of these gorgeous rugs, and voila- instant flooring experience done right.
68. Navy Kazak Area Rug
Our navy Kazak Area Rug is a traditional yet classic area that has been updated with a modern flair and creates your perfect space. It is 6x8 and made from wool, making it durable for indoor use. It is great both looking at up close or far away thanks to the pile height, which sits at around 2' tall. Spruce up any room in your house with this perfect piece.
69. Beige Ziegler Area Rug
Our new Ziegler Area Rug is nothing short of heavenly. New Zealand Wool's elegant, neutral color palette will add an extra crisp lemonyness to your living space. The flatwoven Rugs construction add a super-plush feel that pets love and you'll adore. Is this Rug perfect for nearly any room in the house or office - except maybe for your master bedroom with all those high traffic patterns on the comforter?
70. Red Kazak Area Rug
With a geometric pattern that includes red and yellow accents, this is the perfect Rug to add an elegant and vibrant touch to any space. Bring new life into your bedroom or dining room with this soft wool rug with an intricate design in southern Afghanistan by hand-knotting it. Treat yourself and your high-end decor while getting hooked on quality construction for lower prices. Purchase the Red Kazak Area Rug today at an affordable price plus free shipping for all orders.
71. Brown Ziegler Area Rug
If you're trying to make your space look its best, then there's no better option for making a statement than with a brown Ziegler Area Rug. The wool material looks great and never needs to be stitched back together, and it doesn't overheat under the sun or peel away when someone spills something on it. It suits any interior design because of its aesthetically diverse pattern, not to feel monotonous but intricate enough so that it'll stand out in a room full of floor-to-ceiling windows.
72. Grey Kazak Area Rug
The Grey Kazak Area Rug is a traditional, classic area rug with the soft, cozy pile height that people love. The material of this carpet is 100% wool and, if properly maintained, will last many years. This Rug is perfect for modern or antique homes with large space living. Sponge away spills promptly with the right cleaner to minimize damage, vacuum often to keep dirt and debris at bay.
73. Ivory Ziegler Area Rug
The Ivory Ziegler Area Rug is the perfect blend of stunning color palettes, durable construction, and a medium pile that's high traffic-friendly. This beautiful Rug's space-conserving size makes it an excellent choice for family rooms or smaller living spaces. The neutral color palette blends beautifully into any existing decor and coordinates well with bright shades of color-especially on-trend aqua and mint hues. 
74. Red Kazak Area Rug
Elegant, comfortable, and luxurious. This hand-knotted wool Red Kazak Area Rug is traditional and serves as a bold statement for a dining room table or bedroom. A stunning red rug with an intricate pattern displays the time put into its construction; this handmade 6 x 8 is no disappointment. From Afghanistan to your home via nine months of work means you get value and comfort while accentuating any space, whether modern or traditional. This high-quality wool area rug can be soft underfoot. 
75. Brown Ziegler Area Rug
Whether your style is rustic or urban-chic, the brown Ziegler Area Rug has a commanding presence that will complement any room. Crafted of pure wool with an elegant low pile height for comfortability and reclining, this Rug can add sophistication to nearly any space from a living room to the bedroom. A soft rug underfoot makes every step feel like you're walking on clouds.
76. Beige Shawl Area Rug
Before this rug offered spouts as a space saver, it said goodbye to all of the colds during those harsh winters. This traditional yet classic Shawl Area Rug is perfect for any room and can create an everlasting ambiance to your home both inside and out. With its beautiful neutral coloring on top, you're sure to be pleased with the deep pile height that ensures comfort in every child's feet or even your own.
77. Beige Ziegler Area Rug
Tired of your uglier than the ugly floor? Want a light and airy space that's easy to keep neat while making it feel like home? It doesn't matter if you're looking for something modern for an urban loft or want the coziness of rustic beams in a country farmhouse. Our rugs are perfect for any decorating style. Beautifully woven with New Zealand wool, this low pile flat woven rug is soft and luxe-looking enough to highlight just about any decorating scheme. 
78. Brown Ziegler Area Rug 
The brown Ziegler Area Rug is a wool rug with an intentionally low pile designed to suit homes with pets or lower levels of foot traffic. The earthy color palette allows it to integrate seamlessly into any space and looks great wherever you put it.  Constructed from New Zealand Wool, this extension of your living space adds sophistication without overcrowding the room and can be easily matched to existing furniture for a cohesive elegant layout.
79. Brown Shawl Area Rug
This Shawl Area rug has a traditional yet modern design. It is made of wool and can be used both indoors and out. This would be an excellent choice for the flooring of any living space because it does not absorb stains or spills, making it simple to wipe clean. This soft pile height that spans 6×8 feet is perfect as a statement in smaller spaces like hallways, kitchens, bedrooms, or living rooms while large enough for larger spaces like family rooms or dens too.
80. Ivory Ziegler Area Rug
The scenic Ivory rug is the perfect decorating choice for any space, with its captivating all-over color palettes. Constructed of wool and hand-knotted, this durable option is great for high-traffic areas. It measures five by eight feet and features a medium pile height. Lastly, there are many other areas that you can hang rugs, including kitchens, home offices/studies, sunrooms, living rooms, and more.
81. Red Kazak Area Rug
The hand-knotted Red Kazak Area Rug features a traditional intricate pattern and a color of red. This size 6x8 Rug is made with high-quality wool, which makes it great for your dining room as well as your bedroom. With wool fibers being the first most common material in our rugs, this fiber is perfect for hot weather or rooms with carpets. The Red Kazak Area Rug origins are from Afghanistan, while this rug type includes hand-knotting work. 
82. Ivory Ziegler Area Rug
The Ivory Ziegler Area Rug is moderately priced and has a hand-knotted construction. It offers modern color palettes, including beige neutrals. This Rug will provide some beautiful eye-catching colors to any space if you strategically place it in your home or office along wall to wall carpeting. Be enchanted with its casual muted tones that infuse life and character into your living space.
83. Red Kazak Area Rug
Get this traditional Rug with an intricate pattern, red color, and hand-knotted construction. It's a great way to cover up a mess on your floors or add some warmth to any room in the house. This wool rug is made of good materials for all kinds of household surfaces, including wood, tiled, and stone floors. The wool fibers offer durability and quality that never goes out of style - making this rug one you'll want from your bedroom to the study.
84. Brown Ziegler Area Rug
Whether your goal is to cover up the ugly tiles floor, give your home an elegant look or just improve the comfort of your floors, a wool rug is usually the perfect choice. And at nearly 6' x 8', it'll suit children's bedrooms, living rooms, and hallways alike, whether they're dust mops for pets or soft underfoot better than fancy shag rugs could ever hope to. For further convenience, we've made sure this Rug is stain resistant. Whether you have kids (or pets), don't worry because no matter what spills their food or game-time, sweat onto this gem - mop up and enjoy again
85. Red Kazak Area Rug
This spectacular hand-knotted wool rug features a traditional, intricate pattern in bright red that will likely attract customers' attention. It is sure to stay protected from spills and stains thanks to its cotton backing, so it's the perfect option for any living room that receives heavy traffic. With a size of 6x8 ft., this Red Kazak Area Rug is available in all rooms and can significantly change the overall look of your home.
86. Tan Ziegler Area Rug
An elegant and modern upgrade for your floors. This tan Ziegler area rug is handmade with wool, a material that you can't go wrong within your home. One neat aspect of this Rug is its ability to work as both an actual area rug or be flipped over as if it were a tabletop runner, which shows off the wood grain on the reverse side. The versatility of this one Rug earns it top marks in design potential.
87. Tan Mamluk Area Rug
Every day is a new day to bring in something new with our handmade modern area rug. This tan mamluk rug provides elegance and sophistication as it brings life into the equation of your room. Upgrade yourself by bringing this lovely piece into your home, no matter what type of flooring you have. The material is wool, which offers durability, stain resistance, warmth, and comfort all year round.
Frequently Asked Questions About 6' x 8' Rugs
1. How To Style With Your 6x8 Area Rug?
A 6'x8' area rug should be sized to fit in a living room, dining room, and hallway. Smaller areas like hallways or corners would also suitably use the 6x8 design. Area rugs of this size are perfect for pulling together an entire space without competing with other focal points like furniture.
You can get creative with how to style your space by following these three simple styling tips: 
1) Place a potted plant on top of the Rug  
 2) Layer it with interesting throw pillows + scatter patterns across-the-board  
3) Add a few well-placed accent pieces around the room to tie everything together (framed photographs work great.
2. Do RugKnots Make 6x8 Rugs?
RugKnots offer numerous sizes of rugs, including 6 x 8 sized rugs.
3. Is A 6x8 Rug A Standard Size?
Yes. A rug is a necessary home addition because they help keep your feet warm and soothed by providing you with padding and soft materials under your feet. But even though there are many different large and small sizes to choose from, the most standard size for an average rug is 6 x 8 ft. These dimensions suitably match up with a queen-sized bed and provide enough space to add some style into any room of your house.
4. How Big Of A Rug Do I Need For My Kitchen?
To calculate the length of Rug you'll need for your kitchen, you need to consider three things. 
First, the size of the area you're planning on covering with a rug needs to be plotted out. 
Second, the height of your countertops above that area would need to be taken into account for it to make sense. 
Thirdly, and most importantly, there needs to be an extra two feet beyond the covered area not to trip over or get caught up in any part of that Rug. 
It's important not only how wide a section is but also what type of texture it is; areas, where water or liquid is frequently spilled should have a rougher surface so spillage can't spread as synthetic fibers work.
5. Why Do We Add Rug Pad Underneath The Wool Area Rugs?
Attaching a rug pad to the floor underneath your wool area rug is beneficial because it absorbs some of the natural decomposition of rugs using natural materials. It can also prevent stress on the wool fiber due to daily uses, give added protection and cushioning for high-traffic areas or when used with hardwood floors, and extend the life of an expensive area rug.
Typically we see people use two types of pads. Rubber-backed ones are extremely durable and hold up well under heavy human usage like school classrooms or children's playrooms where they might get stepped on a lot. Some thick ones absorb moisture spilled onto them better than others since liquid evaporates through them more slowly than through cotton backing pads.
NOTE:
If you are looking for a rug store that will take care of all your needs, then RugKnots is the place to go. We have an impressive selection of rugs, and we carry them in multiple sizes so you can find the perfect match for your home or office space. You can also contact us with any questions about our products, and get help from our knowledgeable staff who have been providing excellent customer service. Browse through our website today. Buy now. We would love it if you share it with your friends and family or leave a comment below. You can also connect with us via email at info@rugknots.com or call us at (301) 660-7046 for any of your rug inquiries, including product queries and service questions.