Everything You Should Know About Shag Rugs!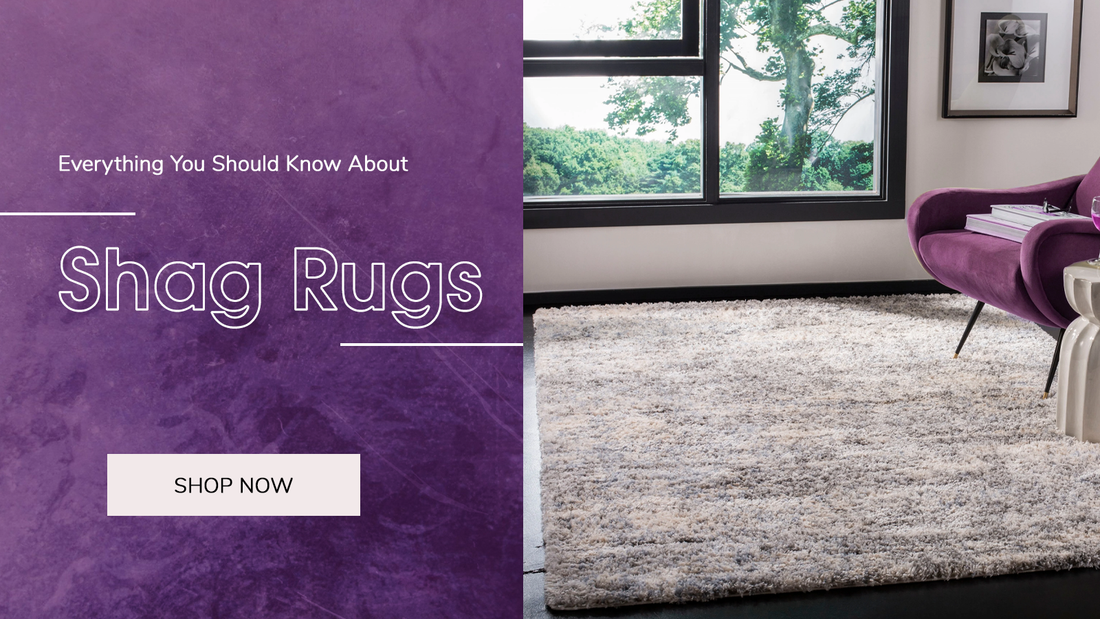 Have you ever come across those fluffy like puppy rugs? Have you spent your whole life feeling their softness whenever you came across one? But, you certainly did not know what they are called? Well, they were shag rugs! Shag Rugs are the most fleecy rugs you would ever come across. Why are they like that? Let's know why; shag rugs have deep, thick and uneven piles made up of multiple strands of yarn. It is due to these yarn strands that they appear shaggy and fluffy and are so called- shag rugs! These rugs don't only feel comfortable but look comfortable, too. They are sure to completely transform your room and give it its best look and vibe. They are by far the funkiest yet Modern Rugs. Even though they were invented in the 70's, they still emit modern feels and give present day touches. So, if you have been planning to buy one for your home but have been hesitant about it (due to the mixed opinions and reviews surrounding them) don't worry, because we have all the information you need in order to get one for yourself.
Shop Shag Rugs
History
Shag rugs first became popular in the 70s and 80s (but, they have seemingly made a huge comeback in current times). They originated from Greece and their history is traced back till even 331 BC. They are also known as 'flokati rugs' made from woven goat hair. They started becoming popular and started to get made in different countries and today they are found in almost every state. In present times, they are much easier to be made with the evolutions and inventions such as yarn and the advent of synthetic fibers. Shag rugs also known as flokati rugs have been on a rise ever since their advent and continue to gain value and popularity with the passage of time.
How Are They Manufactured?
Shag rugs are not the kind of rugs that are always hand woven. That's because of its fluffy nature that they are in some cases hard to produce by hand. Some of them, not all are hand knotted and others are hand tufted. It is due to these reasons that they have a kinky and curved structure and surface. As a result, they are soft and comfortable to feel. However, Machine Made Rugs lack such details and irregularities. They almost seem perfect and error free. Both the construction types have their own specifications and identifications.  
Shop Area Rugs
Types Of Shag Rugs
Shag rugs pretty much compliment every kind of space and so its different types are found. Let's dive into the types, now!
Wool Shag Rugs
Wool is the most commonly used material when it comes to rugs and the case is no different even with shag rugs. They are found to be the most comfortable and soft. Shag rugs made of wool usually appear "noodle- like". Because of the fact that they have thin and fine fibers, they are easier to clean and maintain. Wool Rugs are your perfect destination when you want to buy rugs that appear downy and noodle- like but not very fleecy.
Synthetic Shag Rugs
These rugs are of course not naturally made but are made using artificial means such as chemical synthesis. This also means their quality will be lower than that made of natural fibers. It is not durable and obviously the life span will be less, too. But, it has an edge over others because they are less expensive and are relatively cheaper than other shag rug types. That means that you can take a risk and experiment without crashing the bank. Not only that, they are easier to maintain and clean as well.
Shop Hand Knotted Rugs
Leather Shag Rugs
These rugs are the most delicate and sensitive out of all. Leather shag rugs are simply unique with the most striking and stunning looks. The biggest and probably the only reason people buy these is because of its looks and appearance. They look so lavish and luxurious that anyone can get attracted to it. But, they are very hard to maintain as you want to keep them in the best condition as you can and also increase their longevity. For that matter, keep your kids, pets and anything that can cause some harm to it away from the rug. Otherwise, you're good.
Flokati Shag Rugs
As mentioned earlier, shag rugs were first identified as flokati rugs made in Greece. They are the fluffiest and shaggy out of all. These rugs are made from one hundred percent wool- each one of its parts is made up of nothing but wool. You will usually find these in creamy and plain white or off- white colors but you can always get them dyed in whatever color you like.
Shag rugs have numerous things to offer within themselves. You won't be left disappointed with the varieties it possesses within itself. Let's find out more!
Shop Colorful Rugs
Colors
Shag rugs come in a wide variety of colors. This helps you to perfectly match the color with the room's vibe. You can contrast your rug color with your furniture and wall's color as well. Shag rugs most notably come in plain colors but you can always break the norm and try something different. You should always keep your rooms aesthetic in your mind while choosing the color of your rug. As an advice, people usually want to repel with the overall rooms lay out since that seems more appealing. For example, if your room seems colorful, go for a dull colored or rather a neutral rug, that would work the best for you and vice versa. The color of your rug not only completes the room but also gives it a whole new vibe and feel. Such as a white colored rug that feels more airy and fresh while a dull rug makes your room look and feel chummy and cozy. So, don't underestimate the power a simple color has on your room.
Shop Oriental Rugs
Sizes
Size of your rug plays an important part in your rooms' décor. It should be kept in mind that if you mess up with your rug size, chances are that you might have to dump that rug right away! Getting a wrong sized rug is the biggest nightmare of a rug buyer. Shag rugs come in a wide range of sizes, too in order to compliment each one of your rooms. You can pick and choose from the most extensive rug size range and place the best in your area. Remember that buying a small rug is never advantageous but getting a larger rug might not be a problem in the longer run. But, we suggest you get a rug of perfect size. For that, you just need to measure the correct dimensions of your area i.e. the width and length of the area you want your rug to be placed at. Make sure that your furniture is covered by the rug but to a certain extent. Also, your rug should not touch the walls since it's a rug and not a carpet. With such a wide collection, you can find anything for yourself and your room.
Materials
Again, there is a wide variety of materials you can pick from. Starting from natural fibers such as wool to synthetic fibers such as nylon, olefin and polyester, maximum types of materials are present for shag rugs. Not only that, these rugs are also found in leather, too which sell in the most haphazard amount.
Shop Large Area Rugs
Shapes
Normally, shag rugs can be used in almost any shape and they would still look cute. Typically, they come in shapes like circles, rectangular and even triangles. To compliment your area, shag rugs can simply take up any shape to fill your space in its utmost best.
Patterns & Designs
Shag rugs look breathtaking in geometric designs and patterns.  But as always their looks will sway you away. Not only that, these rugs have an array of designs and patterns present to help you choose the best. You can choose any design of your preference and leave the rest to the rug itself!
Benefits Of Shag Rugs
Comfort
The biggest and foremost advantage that a shag rug has is that they are comfortable. When you walk over a shag rug, you would feel your feet sinking into a soft and fluffy surface and you will love that feeling!
Shop Modern Rugs
Durable
Due to the texture that a shaggy rug possesses, it makes them durable. It enables them to withstand high foot traffic. This obviously means that it can be placed at high traffic areas as well. But, it should be kept in mind that certain rug strands might not be very suitable to be placed at high traffic areas such as leather.
Widely Available
As I have mentioned before as well that with its increasing popularity, many countries have started to contrast these rugs. This means that it is not difficult to find a shag rug around town no matter wherever you are living. You can find a shag rug at your nearest rug store and even at online rug stores like RugKnots. You can find different style rugs and patterns, too.
Visual Treat
Shag rugs are sure to give a visual treat to simply anyone who sees it. They look chic yet stylish. No matter where you place it, it would stun in anyway and every way possible! It adds to the visual appeal of your room and either makes or breaks the whole vibe and aesthetic of your room.
Shop Custom Rugs
Disadvantages
Shedding
Shag rugs tend to shed a lot of fiber due to their texture. It, of course, depends upon the quality of the rug since a high quality rug wool shed is lesser than a lower quality one. Because of the friction and high foot traffic adds to the reasons for it to shed. Nonetheless, they tend to shed anyway.
Hard & Expensive To Maintain
They already have a high cost but maintaining it adds to its expenses. In every scenario, whether it's a pet stain or just a spill, these rugs make it hard and expensive for you to clean them. Especially leather rugs, they cost nuts!
Difficult To Clean
You can't really vacuum them! Yes, that's something painful. There is always a higher risk of you destroying your shag rug if you consider vacuuming them. You can be as delicate as you can but still take off a considerable amount of strands off of your rug.
Shop Indoor Rugs
They Get Yellow Over Time
That's the most undesirable sight. Yes, we can completely understand you and relate with you. Shag rugs tend to yellow overtime since their color fades. The main reason stands the exposure to sunlight or the use of some laundry detergents (that don't suit the rug) makes their color fade and as a result, they tend to seem yellow.
And, that was it for now! We have gathered all the information you had always wanted to know about at one spot. This blog post is basically all you need to know about shag rugs. These rugs are one of the most desirable rugs out there, if not the most. They are simply breathtaking and with that they are expensive, too. So, we can understand why you might be thinking over and over whether to buy these or not. Of course, you must be questioning when it comes to spending some large amount of money. We also hope that you found this blog post helpful and found answers to your questions regarding shag rugs. These rugs are sure to make your jaws drop once you get one for yourself.
Also, wait, we have something for you. You can find and buy the best rugs be it the extravagant shag rugs or simple wool rugs, you can find it all at RugKnots at the best price. You can get your favorite rug in almost any and every color, design and pattern you can imagine of. Furthermore, we are always there for you in case you need any guidance or assistance. Feel free to connect with us and go check our collections out!
Happy shag rug shopping! 
Shop Outdoor Rugs