10 Benefits of Baja Rugs That May Change Your Perspective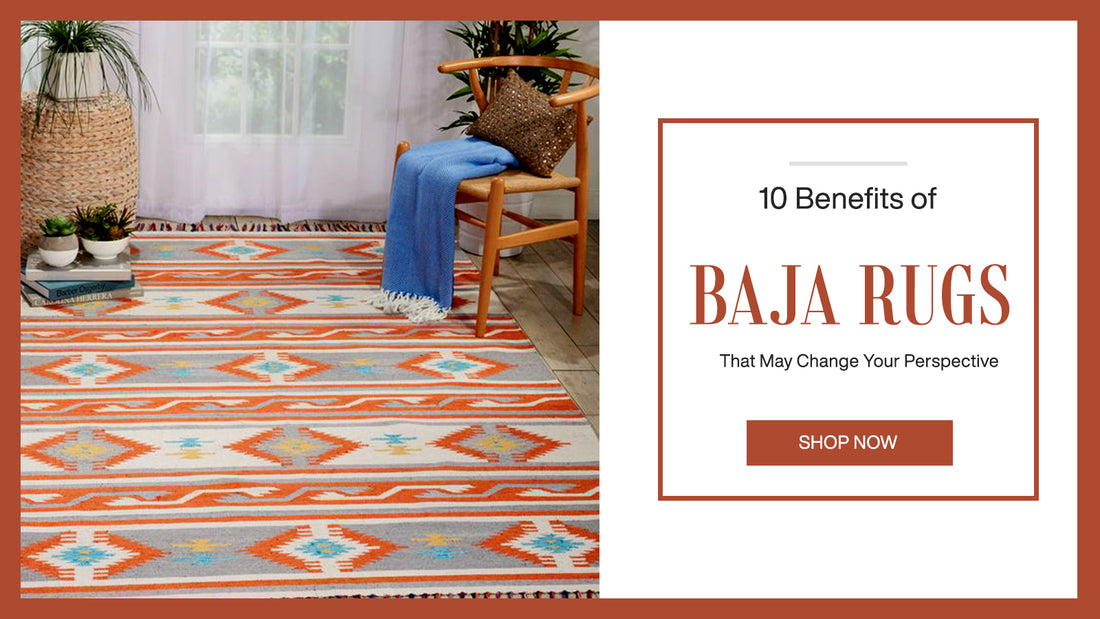 By now you might already know that there are several types of rugs. From Oriental rugs, Ziegler rugs, Persian rugs, and Baja rugs. 
Baja rugs with their simple patterns and fantastic variety in colors are in trend these days. Imagine a life without style. Boring right? Then, imagine a house without colors and style. SUPER BORING! We know it. We get it. Colors, whether light or dark and patterns, be they simple or abstract, together can up the game of any place.
Therefore, we say life without them is quite boring. Do you know using colors with style is also important? Let us show you how. Rugs add life with color and style to your space: Style, colors, décor, and designing are the four elements that can make you fall in love with your house. Oh, by this we do not mean that people in your house are not important. They are. But truth be told, the design elements of the house just take the lead.
Because no one likes to live in an unfurnished place, sprinkling it with paint, wallpapers, furniture, curtains, decoration pieces, and rugs are very important. Today we discuss Baja rugs, give you an insight of what's good and what's not.
These are the most amazing yet underrated rugs. So, we will clear some of the misconceptions about them and share some benefits of Baja rugs that will change your perspective.
Before that, we want you to know why rugs are important. This will help you make an informed decision when you buy Baja rugs.
Shop Green Geometric Area Rug
Reasons – Why Rugs Are Important:
The importance of rugs is the same as we see how important a hairstyle with an outfit to complete the whole look is. Yes. Having an on-point hairstyle with a fabulous dress can make a person look amazing. Now, imagine your room without a rug, it might be looking empty and sad in a way. But you can take all that sadness away by making it comfortable an easy way to do that is to get a beautiful rug. 
The same goes for rugs. A room with perfectly painted walls, splendid furniture, wooden flooring might look incomplete. But the moment you place a rug somewhere, it looks complete. It adds dimension with texture, brightens up space, add character to it, and connects everything in the room.
What is a Baja Rug?
Baja rugs are the most flexible and easy to use rugs, ever. Baja Rugs are also called the drug rugs and flatweave rugs. They are simple, traditional, colorful, and eye-catching. Their light material, versatile designs, and inexpensive nature instantly make everyone fall in love with them. These are the oldest type of rugs – just so you know! Although some of them are handmade and machine-made, both offer beautiful designs and patterns. Different places in the world follow their type of designs and patterns but never compromise on the quality and style.                 
Why Buy Baja Rugs?
Well, Baja rugs or what many call flatweave rugs can be the most brilliant addition to space. You can use them for high-traffic areas like offices, study, kids or living room and place them outdoors – however you feel like. Considering how convenient, pocket-friendly, and low-maintenance they are, we would recommend you buy Baja rugs. You can also buy Baja rugs online from RugKnots and send us blessings when your room goes bling bling!
Misconceptions about Baja rugs:
Just like there are many misconceptions about rugs of almost every kind, Baja rugs also enjoy their fair share of misconceptions. Some believe that if they are affordable, then these will not be durable. One of the most senseless misconceptions about the Baja rug is that since they are easy to move around, they can carry dust particles that can cause allergies and health problems. Therefore, we are listing down the top ten benefits of Baja rugs that will clear your perspective before you head on to buy Baja rugs online.
Shop Multi Color Flatweave Area Rug
Benefits of Baja Rugs
Just as there are countless types of Baja rugs like Dhurry, Soumak, Kilim, Chainstitch, Needlepoint, Aubusson Weave, and Hooked, there are countless benefits of what we like to call Baja rugs or flatweave rugs.
1.       Baja rugs are inexpensive:
One of the top benefits of buying a Baja rug is that they are not expensive at all! You get super amazing variety in sizes, shapes, and colors that will not cost you an arm and a leg.
2.       Wide range of style:
When we talk about Coastal rugs, Oriental rugs, or Geometric rugs, they have a specific style to them. But Baja rugs have a wide variety of styles. Be it a triangle, geometric, stripes, and floral patterns, you name it, and Baja rugs have it and that too in different colors.
3.       Easy to move:
One of the best things about Baja rugs is that they are light-weight. When something is light-weight, it is easy to move. Although people think that moving the rug means carrying dust from one place to another, how about cleaning it first to make sure you do not carry the dust around.
*top secret*
Cleaning these light-weight Baja rugs is as easy as making pie.
Shop Orange Geometric Area Rug
4.       Durable:
Baja rugs are durable. Even though all the rugs are durable, what we particularly love about Baja rugs is that as that their flatweave style does not let the rug tips get damaged. This is why; these rugs are recommended for areas with high foot traffic. They carry magic with them.
5.       Works great with furniture:
All the homeowners know struggles of furniture, leaving a mark on woolen rugs. Well, the good news is that as Baja rugs have thin material, the furniture and rugs do not mess with each other, and everything stays smooth.
6.       Reversible:
We not only call the reversible quality of the Baja rugs a benefit; we rather call it a fun benefit! Imagine your kid spilling water on the rug in your living room while you were waiting for the guests to arrive. Sounds like a nightmare, no? But not with Baja rugs! Baja rugs have reversible quality. Reverse the rug to have a brand-new design with a new look!
Shop Ivory Geometric Area Rug
7.       Perfect for indoor and outdoor:
If someday, you plan a family picnic and want to take Baja rug with you, you can! Baja rugs are designed to fit in where ever you want them to. They are this friendly!
8.       Less-allergies:
One of the common misconceptions about all the rugs is that they carry dust and cause allergies. Well, if you will not take care of hygiene, anything will cause health problems. Baja rugs are easy to carry around so you can take it out, dust it off and bring it back. It will not be because of allergies, at least.
9.       Great all year round:
These rugs are not seasonal pieces. The benefit with the temperature inside the space. Yes! These rugs are made of light cotton that absorbs less heat in summers and saves your space from becoming too hot to live or spend time in.
10.   They don't shed:
Unlike woolen rugs that, at some point in their lives, shed some threads, Baja rugs do not do that. They do not have any additional coverage, so the chances of shedding are near to zero.
Shop Ivory Geometric Area Rug
What to Do Next?
When it comes to setting up space, a lot of ideas come to mind. Since you are here to explore Area rugs, RugKnots is one of the best places you can buy area rugs in the USA. We have an unlimited variety of area rugs in amazing patterns and colors that will make your heart skip a beat. We not only have super-cool variety of area rugs for sale, but some countless other designs and patterns are available for you. we don't just sell "area rugs" but we have the most diverse collections consisting of oriental rugs to the traditional Persian rugs! we have it all!
Shop Black Geometric Area Rug
So, what are you waiting for? Start shopping at RugKnots!  We are certain that you will not be disappointed. And please leave a review after you have used our rugs! We would love to have your feedback!
We Have Rounded Some Questions Asked By You And Answered By Us. 
1.